Blogger aka Blogspot is a content management platform by Google. Blogspot is a simple service that enables you to create a blog and publish it online immediately. Here we share Blogspot Guide 2023 to start a Blog With Complete On-Page SEO Tips & tutorials.
Blogspot is an excellent tool for people who want to start a blog without investment.
Blogspot is also a good platform for beginners to learn SEO. This content management platform is entirely free, and you can host your website without paying a single amount of money. In this article, you get the pros & cons of using Blogspot. You'll also get Blogspot vs WordPress complete comparison.
Blogspot also offers a free domain name with unlimited and unmetered hosting service with a 100% uptime guarantee and 100% security. So, Let's check our Blogspot beginners guide.
How to Create a Free blog on Blogspot?
This post is dedicated to "beginners" who are new to blogging and would like to get started by learning the basics involved in the process. Before starting our guide, make sure you have a Gmail account to create a Blogger account. If you don't have a Gmail account, then create an account first.
Step 1: Create a Blogspot Account
First of all, go to Blogger.com and sign in with your Gmail account. For a first-time user, you will see an option to use the identity from your Google profile, or you can use your custom Blogspot profile name.
Then Choice your Display name and click on Continue to Blogger.
Step 2: Select your Blog name & URL
After reaching Blogspot Dashboard click on New Blog then choose your website title (you can change it later) and website address (Website URL) and click on Create Blog option.
And now you have successfully created your first website on Blogspot. Now, click on the "Create New Blog" button to create your first post on your blog/website.
After publishing blog posts, You can see your all published posts, page views, & comments on the dashboard. You can also edit, delete, & publish blog posts from your dashboard.
Do you have any websites on Blogspot? Yes, I have two websites hosted on Blogspot.
Step 3: Install the Template on your blog
If you want your Blog to look fantastic and user-friendly, then you need to install a good quality Blogspot template. Make sure your website is mobile-friendly.
So, are you wondering which Blogspot template is the best for SEO? I'm using the Sora Coin template for all Blogspot Websites. The Sora Coin template has a fully responsive layout & completely on-page SEO friendly.
How to install the Blogspot template properly?
First of all, select any SEO-friendly template from for Blogspot website and download it. Then, go to your Blogspot dashboard and click on a template option. and then click on the "Backup/ Restore" option to install your template.
Then, choose your template from your computer and then click on the upload option.
after uploading the template click on the mobile version preview and then click on the desktop theme on a mobile device. For more check this image down below.
Note: Do not use the cracked template on your blog. If you need my customized Sora Coin template, then let me know in the comment section. And If you are using another template for your Blogspot blog, then, make sure you are using a speedy loading and responsive template. 
Step 4: Blogspot layout option customization
Most of the Blogspot template comes with the default configuration. If you want to add a logo and Favicon for your blog, then you need to go to the Blogspot dashboard and then the Layout tab.
In the Blogspot layout tab, you can select your widget, menu, social icon, etc. You can also set Google Adsense ads, and contact us form in the layout option. If you are using our customize template, then you can add this item quickly.
How to change the default theme color and background image?
Most people love to change the default theme color and background image. If you want to change the Blogspot template color, adjust the widget, background image, and layout style change then, first of all, go to the Blogspot dashboard.
Then, open the theme tab and then click on the Customize option to open Blogspot Theme Designer. In the Blogspot Theme Designer, you can change the theme color, background image, etc.
Note:- If you are using a custom background image for your blog. Make sure it's completely compressed. I'm using the Compresspng tool & TinyJpg tool to compress all images and pdf.
How to Add an Adsense ad on Blogspot?
A few people ask me if can I make money if my website is hosted on Blogspot. Yes, you can make money from Google Adsense and Affiliate Marketing. This is a straightforward step to add Google Adsense ads to your blog posts and widget area. First of all, go to your Blogspot dashboard and open the Layout tab.
Then, click on Add gadget option then select the HTML/JavaScript option. Then put your ad code in the content area and save it.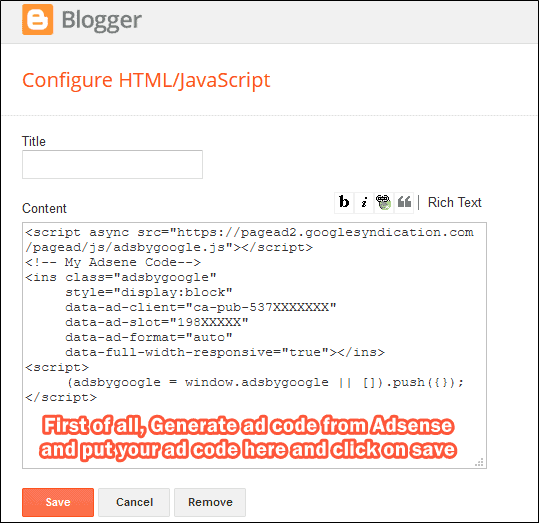 How to put Adsense ads in the middle of any post?
Google recently added a new feature "Auto Ads" on Adsense. You can enable Google auto ads to insert ads in the middle of any blog post. You can read the Google Auto Ads blog (Official). If you don't have a verified AdSense account check the best AdSense alternatives.
BlogSpot settings customization for better result
If you are a beginner, then configuring basic Blogspot settings may be a tedious task for you. Here we share basic Blogspot settings to you need to change immediately to rank on Google or other search engines.
This Setting option is the main part of Blogspot. Most people don't know how to configure properly and rank on any search engine like Google, Bing, Yandex, Duck Duck Go, etc. Follow the step-by-step guide to get a better result.
1: Blogspot Basic Settings
Make sure you are using the Title of your blog, and if you need a blog description then you can add it here. Let's talk about the privacy option; make sure you set these two options. Yes, to get ranked on Google.
You can also change your blog URL. But we don't recommend you do that. It can decrease your search engine ranking for a week. Make sure you always use HTTPS options, It's also a ranking factor. In basic settings, you can also add your domain name (www.yoursite.com).
Just click on the "Set up a third-party URL for your blog" option & add your website URL & then go to your domain name server and change your domain IP to Blogspot.
2: Blogspot posts, comments, and sharing settings
Let's check the Blogspot post and comment settings; you need to change them right now. In this tab here you get the first option of how many posts you want the show on your homepage.
Then make sure you enable Anyone can comment on your post and always check an option on the Comment Moderation option. You can also change the Comment location, but we recommend you to choose the Embedded option.
Blogspot Email settings
Blogspot email setting is not part of SEO. But you can set this setting like me. check this image and set your blog email setting.
You can also add a Notification email. With this email when you comment on your blog post, you'll get notified by Google automatically.
3: Blogspot Language and formatting setting
Blogspot language is a minor part of Search Engine Optimization. You can set blog language and time zone and date format.
If your site visitor comes from all over the world, then set it to English. If you have a website-specific language like Hindi, then change it to Hindi, It'll help your website ranking in the future.
4: Blogspot SEO Preferences Settings
The main part of Blogspot SEO is the search preferences setting. Let's check how you can change settings properly. First of all, add a Meta description for your blog. And add your Blog to Google search console. Enable robots.txt file to get the best result on the search engine.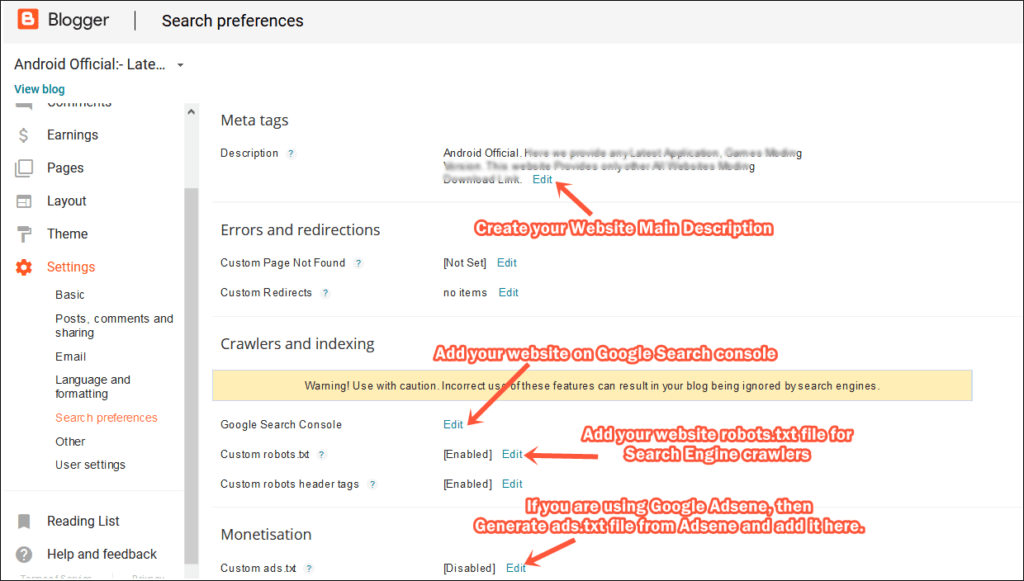 Make sure you create a sitemap for your blog. Create a Sitemap for the Blogspot blog. Then add your sitemap on the Google search console.
# Blogspot Sitemap generated on 2020.07.04 User-agent: * Disallow: /search Allow: / Sitemap: https://yoursite.blogspot.com/atom.xml? redirect=false&start-index=1&max-results=500
5: Blogspot other Settings configuration
In the Blogspot different settings tab, you can set your Google-Feed Burner URL for email marketing, and you can set your content categories. If your site is non-Adult content, then set it to no.
You can also add a Google Analytics account to your Blogspot blog. Create your Google Analytics account and track your Blog traffic in real time.
If you want to migrate your blog to WordPress. Then you can import your content for your WordPress Blog. I'm using Bluehost hosting to host my all WordPress website. You can also use it.
Pros & Cons of using Blogspot
There are many reasons available to choose Blogspot, aka Blogspot. When comes SEO, then WordPress is far better than Blogspot. If you want to rank your websites on Google, then SEO is only one option. Let's check Blogspot aka Blogspot pros and cons.
Pro Features of Blogspot:
100% Uptime guarantee.
100% secure.
Free Hosting Forever
Simple control panel
super fast webserver
Fast indexing on Google
Completely free forever
The free domain name (.blogspot domain)
free, fast-loading underlying XML-based theme
Cons of using Blogspot:
let's look at some of the specific disadvantages of Blogspot.
Customer Support is not available
poor Design & Customization
SEO tools are not available & many more.
Blogspot vs WordPress: Which one is best?
When it comes to choosing the best CMS, (Content management system) we have plenty of options like
WordPress
Blogspot
Wix
Tumblr & list goes on…
Most of the latest websites are based on WordPress & right now WordPress has over 34% market share.
When someone asks me which free platform they should start their website, here is my answer: Start with WordPress.com (It's completely free).
First of all, Like Blogspot, start your website with wordpress.com when you get used to with WordPress environment then start a new blog on the self-hosted WordPress hosting platform. I highly recommend you go with CloudWays or Bluehost hosting, they are officially recommended hosting providers by WordPress.
Let's check why you need WordPress instead of using Blogspot aka Blogger.
Starting on WordPress.com is easy like child's play. Once you have your account on WordPress, you can create your site in three steps:
Choose what type of site you want – Blog, website, portfolio, or online store.
Choose your website theme (there are thousands of free options available)
Select your website URL address.
That's it. You've successfully created your first website with WordPress.
WordPress will let you do everything you want to do, it gives you full control over your blog, and you can do anything you want. You host your own files, can design it anything you like (there are thousands of options available for you).
Advantages of using WordPress
Getting started with WordPress is still a pretty quick and painless process.
The WordPress support community team really huge and there are thousands of free articles & videos out there to help you.
WordPress platform is beginner-friendly and very easy to learn.
There are thousands of customization options available. You can install theme & plugins to customize your site without any coding knowledge.
WordPress is SEO-friendly. If your site is on WordPress you can make your site SEO optimize for free by using the Yoast SEO plugin (It's free) to get a higher search engine ranking.
And the list goes on…
Dis-Advantages of using WordPress
Self-hosted WordPress platform required some money to start your website, if you choose Bluehost then you can start your website with $2.75/mo.
Installing WordPress needs some technical knowledge. But there are hundreds of videos out there to help you.
The Blogger (aka Blogspot) platform is good when you are looking for a simple blog with facing simple technical details. But Blogspot has many limitations that WordPress doesn't have.
If you want to start your Blogging career then I highly recommend you to go with WordPress. You'll need to choose a hosting plan and pick out a domain name, after which you can install WordPress on your site completely. If you're looking for an affordable WordPress host with one-click WordPress installation features then, we recommend Bluehost.
Final Thoughts on Blogspot guide
If you have a budget and you want to start your website, then I recommend you use WordPress. I'm using Bluehost hosting to host my website, they offer a one-year free domain name + free SSL (It's low price and high performance).
Start your website with Bluehost Hosting.
I know you like this Blogspot guide. Now it's your turn if you like this tutorial share it with your friends and family member. We recommend you use WordPress for your blog.
Blogspot is a blogging service provided by the tech giant Google. With WordPress, you use a WordPress hosting provider to host your site.
Read more about
Let me know if you need any help with Blogspot or WordPress blog in the comments or contact me. I'd be glad to reply!
Thank you. Have a lovely day.