When building a WordPress website, you're juggling several different tasks simultaneously, everything from website design to increasing website traffic, SEO, etc. On top of that, you must choose the Best WordPress plugins for Blogs that help you start, run, and grow your WordPress website.
According to Kinsta, Over 43% of websites are now powered by WordPress. While this is awesome, it also means thousands of WordPress plugins exist to make your life easier.
Don't worry; you don't need to install all the WordPress plugins that you hear about. Too many unnecessary WordPress plugins can hamper your site's performance and loading time and hold your website's organic growth.
You only need a few selected WordPress plugins to boost your website performance, extended features, security, etc. In this post, we'll walk you through the Best Free & Premium WordPress plugins you need for every WordPress website. Let's dive in!
Best WordPress Plugins for Blog
With over 55,000+ WordPress plugins available on the WordPress repository, it's pretty tricky for beginners to find the right WordPress plugins for their needs. Most helpful WordPress plugins are free, and some of them have a price tag, but a few come with limited functionality for free.
If you're in a hurry, you don't want to read the whole post. Then, feel free to click on the following links to test out the WordPress plugins, check features, and make your own decisions. If you'd like to see our in-depth plugin analysis, keep reading!
Let's check all WordPress plugin features, activate installations, user ratings, performance, & pricing details. So you can decide for yourself which plugin is the best for your WordPress website.
1: MonsterInsights (Best WordPress Analytics Plugin)
MonsterInsights is the most popular traffic Analytics plugin that lets you integrate Google Analytics on your WordPress website dashboard. With MonsterInsights, you can see Google Analytics data and enable advanced tracking features like Ecommerce tracking, File download tracking, Ad tracking, and AMP tracking.
MonsterInsights is available as a free and paid version. The free MonsterInsights version comes with Google Analytics integration (Analytics data + Real-time data) in your WordPress dashboard. MonsterInsights is also used by some big companies like Microsoft, Bloomberg, FedEx, Zillow, and many more.
Key Features you need to know:
Universal Tracking
eCommerce Tracking
GDPR, EU, CCPA Compliance
Outbound Link Tracking
Affiliate Link Tracking
Enhanced Link Attribution
File Download Tracking
Scroll Tracking
Forms Tracking
Google AMP Tracking
UserID Tracking
Logged-In User Tracking
SEO Score Tracking
Focus Keyword Tracking
Email Link Tracking
Complete Analytics Report
Real-Time Report
Audience Demographics Report
Search Console Report
Site Speed Report
Individual Post & Page Report
Headline Analyzer, and more.
Active Installation: 2 million+ active users
Overall Review: 4.6 out of 5 stars
2: Akismet (Best Spam Protection Plugin)
Akismet is the most popular WordPress comment spam protection tool & it comes pre-installed with every new WordPress website. Spam comments are a huge problem for WordPress websites; Asikmet's studies show out of every 100 comments, only 15 are legitimate.
Akismet offers a free basic plan to filter out spam comments without worry. Akismet is quite simple to set up and does not require you to do much; there is good documentation available on the official website.
Key Features you need to know:
Automatically checks all comments and filters out spam comments.
Automatically show all hidden & misleading URLs in the comment body
Admin can see the number of approved comments
Akismet blocks the worst spam, saving you disk space
Active Installation: 7 million+ active users
Overall Review: 4.7 out of 5 stars
3: WPForms (Best WordPress Form Builder Plugin)
WPForms is the World's best drag & drop form builder WordPress plugin. With WPForms, you can create the simplest way to create WordPress forms without doing any code.
The WpForm lite free version is an excellent option if you're starting. It's 100% mobile-friendly & responsive. WpForms comes with a free version and is paid. The free version gives you access to primary form fields, and the WpForms Premium version extends more functionality & customization options.
Key Features you need to know:
Drag & Drop Form Builder
Pre-built form templates
Responsive Design
Instant Notifications
User Registration
Forms Spam Protection
PayPal, Stripe Addon
Email Markting Tools Intregration
Custom CAPTCHA
Signature Addon, & many more.
Active Installation: 4 million+ active users
Overall Review: 4.9 out of 5 stars
4: RankMath (Best WordPress SEO Plugin)
RankMath is a popular WordPress SEO plugin designed to help webmasters optimize their WordPress websites for search engines. It also gives you the tools to bring your content to the highest SEO and overall content readability standards.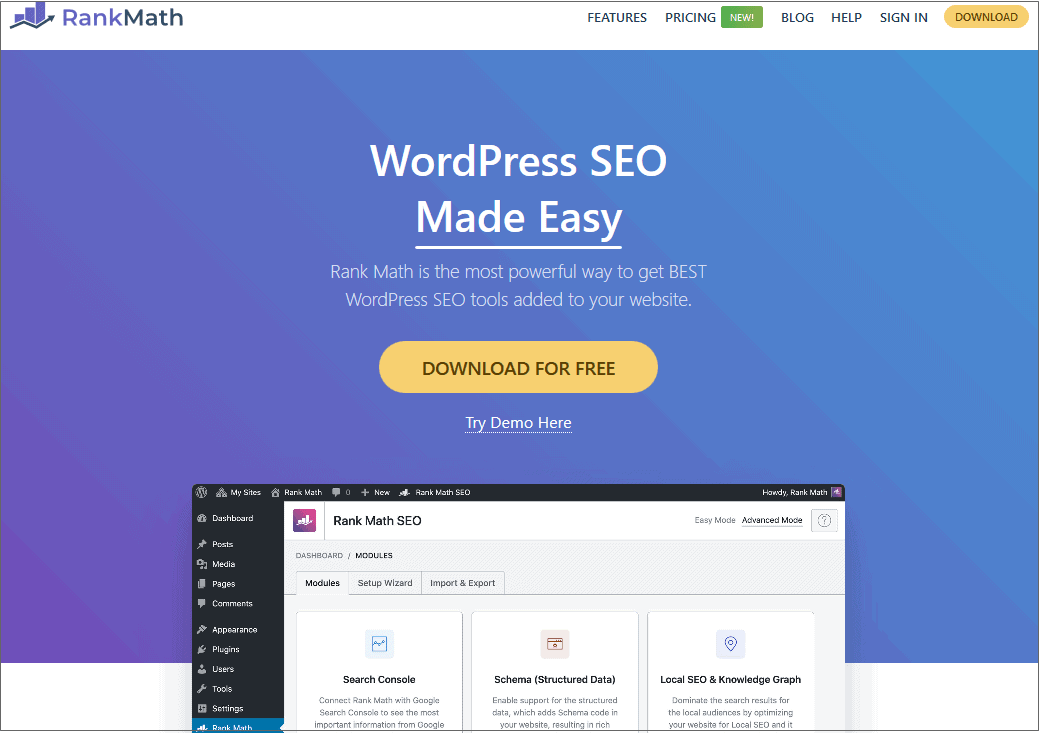 RankMath also known as "The Swiss Army Knife of WordPress SEO," is a revolutionary SEO WordPress plugin that comes with a modern and easy-to-use interface. They offer many incredible features under one roof and are 100% free. RankMath also offers a PRO version to check website users' analytics.
Key Features you need to know:
Advanced on-page SEO checking tool
Custom Fields & AMP support
404 error monitor & Redirects (301, 302, 307, 410)
XML Sitemap Integration, including news sitemap
Add missing image Alt attributes
SEO Analysis tool
Local SEO support
LSI Keyword Tool Integrated
SEO Optimized Breadcrumbs support
Internal Linking Suggestions, and many more.
Active Installation: 1 million+ active users
Overall Review: 5 out of 5 stars
5: WP Rocket (Best WordPress Caching Plugin)
WP Rocket is one of the most powerful cache WordPress plugins. WP Rocket improves your site's website loading time & user experience by improving your server performance, caching every aspect of your site, database cleanup, reducing the download times and, providing CDN integration, etc.
It's suitable for all types of users, from beginners to experts, entrepreneurs to business owners, and everyone in between. You can use WP Rocket to improve the speed of your WordPress site, database optimization, CDN, SEO rankings, and conversions.
WP Rocket is a premium WordPress cache plugin; it costs $49 for a single website, $99 for 3 websites, and $249 for infinite websites.
Key Features you need to know:
Static cache for desktop and mobile,
lazy loading for your images,
XML sitemaps preloading,
Google Fonts optimization,
CSS and JS minification,
Deferred loading of JS files,
WordPress Database optimization,
Browser caching,
Cross-Origin support for web fonts,
Combination of inline and 3rd party scripts, and many more.
Active Installation: 2 million+ active users
Overall Review: 5 out of 5 stars.
6: ShortPixel (Best Image optimization Plugin)
High-quality unoptimized Images are one of the biggest drains on WordPress website load time. ShortPixel is the all-in-one image optimization solution for all of your High-quality images on your website. ShortPixel optimizes your website's images in real-time with a cloud-based CDN system to speed up your website automatically.
With ShortPixel, you don't have to worry about your image optimization, Lazy loading, Watermarks, etc. They also offer free Global CloudFront image CDN integration (200+ locations support) for fast website loading time. Free ShortPixel plugin comes with 100 images per month auto image optimization and lazy loading features. I use ShortPixel Premium, which allows me to optimize 10k images at $9.99 for a lifetime.
Key Features you need to know:
Smaller image size without losing quality
Fully automated image optimization
Support lazy load without using jquery for better performance
Compatible with all page builders like Elementor
24/7 customer support
One account for unlimited websites
100% safe, one-click restore
Nextgen image formats – Webp, Avif
Convert png and gif to jpeg
Serve Webp and Avif to compliant browsers
Automatically scale down large images
Compatible with woo-commerce, nextgen, WPML plugins
Cloudflare integration
Automatic backup
Active Installation: 70,000+ active users
Overall Review: 4.8 out of 5 stars.
7: Really Simple SSL
Google announced that SSL (HTTPS) was officially a website ranking factor for Google search. Really Simple SSL is a lightweight WordPress plugin that automatically detects your WordPress website settings and configures your website to run over HTTPS.
This plugin applies SSL on a complete WordPress website, including single pages, social media widgets, and more. Note: To use a really simple SSL plugin, you must have an SSL certificate from your hosting service. You can use Bluehost hosting; they offer free SSL with all hosting plans.
Key Features you need to know:
Add Cross-Site Protection Headers to prevent malicious attacks
Enable HTTP Strict Transport Security (HSTS)
Add security headers (X-Content-Type-Options, X-XSS-Protection, X-Frame-Options)
Mixed content fixer for the back-end
Active Installation: 5 million+ active users
Overall Review: 5 out of 5 stars.
8: Elementor (Best WordPress Page Builder)
Elementor is one of the best drag-and-drop WordPress page builders out there. Elementor Page Builder has a beautiful interface, advanced customization options, and a manageable learning curve in the free and paid versions.
With Elementor, you can create new pages or a new site with any style, layout, or functionality you need. You can customize anything with your WordPress theme, I recommend using GeneratePress, Astra, & kadence themes for the best result.
Elementor offer import-ready 300+ templates, including full-length page templates and individual elements(Blocks) for you to create beautiful, professional-looking websites.
Key Features you need to know:
Drag & Drop Editor
300+ Designer Made Templates
90+ Widgets
Responsive Editing
Popup Builder
Theme Builder
WooCommerce Builder
Mobile Editing
Entrance Animation
Background Gradient Effect
Social Share Buttons
Custom Fonts, and many more.
Active Installation: 5 million+ active users
Overall Review: 4.8 out of 5 stars
9: UpdraftPlus (Best WordPress Backup Plugin)
As a WordPress user, it's very important to regularly back up WordPress site files and databases to a secure location. If you lose your website files, or database due to an accident, or malicious attack, you need a WordPress backup plugin.
UpdraftPlus is the highest-rated, and most recommend backup plugin in the WordPress repository. UpdraftPlus offers All-in-one WordPress Backup features (complete backup, Cloud storage support, and restoring WordPress files and databases with a single click) with an easy and intuitive-to-use interface.
It can automatically upload your WordPress website files and database backups to the cloud services directly to Dropbox, Google Drive, Amazon S3, UpdraftVault, Rackspace Cloud, FTP, DreamObjects, Openstack Swift, and email.
And If you are using UpdraftPlus premium versions, then you can save your backs up to Microsoft OneDrive, Microsoft Azure, Google Cloud Storage, Backblaze B2, SFTP, SCP, and WebDAV.
Key Features you need to know:
All-in-one WordPress Backup Plugin
Easy-to-use Interface
Database encryption
Automatic backup schedules
Incremental backups
Advanced Reporting
Supports WP-CLI
Multisite compatible
Restore Backup Even from Other Plugins
Active Installation: 3 million+ active users
Overall Review: 4.8 out of 5 stars
Your WordPress website login page shouldn't be accessible to hackers and malicious brute force attackers. If you are not a developer like me, then you can use the WPS Hide Login WordPress plugin to change the URL of the login form page to anything you want.
WPS Hide Login is a very lightweight WordPress plugin that helps you easily and safely change the WordPress admin login page to a new unique URL. This plugin doesn't rewrite rules, rename or change files in your WordPress core files; it just simply intercepts page requests.
It's also compatible with BuddyPress, bbPress, Limit Login Attempts, and other WordPress cache plugins like WP Rocket. If you are using the Perfmatters plugin, you don't need this plugin.
Active Installation: 800,000+ active users
Overall Review: 4.9 out of 5 stars
Insert Headers and Footers is a simple & most useful WordPress plugin way to insert code in your WordPress headers and footers.
This plugin helps you to insert code like Google Analytics, Adsense, search console custom CSS, Facebook Pixel, and more custom scripts to your WordPress site header and footer without editing your theme files.
Insert Headers and Footers also helps you prevent custom script errors that may occur if you edit your theme files manually. Below are some features of the Insert Headers and Footers WordPress plugin.
Key Features you need to know:
The simplest way to insert scripts on Header and Footer
Add Google Analytics, AdSense, and Search Console code to any theme
Add custom CSS Without editing your theme files
Insert Facebook pixel code
Insert any code or script, including HTML and Javascript
Active Installation: 1 million+ active users
Overall Review: 4.4 out of 5 stars.
12: iThemes Security (Best WordPress Security Plugin)
WordPress is the most secure CMS platform out of the box. WordPress gets frequent updates to fix any bugs and security flaws. Still, every WordPress site is vulnerable. That's why you need to use the iThemes Security WordPress plugin to secure your website with over 30 different to keep your site safe and secure from hackers.
iThemes Security plugins offer the best File scanning, Security hardening, Blacklist monitoring, Malware scanning, brute force attack protection, file change detection, strong password enforcement, and database backups.
Although some security features are not included with the iThemes Security free version. I highly recommend you upgrade to iThemes Security Pro to add an extra security layer to your website. You can also use Sucuri or Wordfence as an iTheme Security alternative to check real-time Auditing, Malware Scanner, and Security Hardening.
Key Features you need to know:
WordPress Brute Force Protection
File Change Detection
Strong Password Enforcement
Hide Login & Admin URL protection
Google reCAPTCHA integration
Malware Scan Scheduling
Temporary Privilege Escalation
WP-CLI Integration
WordPress Salts & Security Keys update
Detects and blocks numerous attacks
Strengthens server security
Two-Factor Authentication
Active Installation: 1,000,000+ active users.
Overall Review: 4.7 out of 5 stars.
13: WP Review (Best WordPress Review Plugin)
WP Review is a popular rich snippet support review plugin from MyThemeShop. Wp Review WordPress plugin helps you to increase your overall CTR by using the star rating system. Wp Review also supports 19 different Schema types to increase your website visibility on the SERPs.
With WP Review, you can use 5 different types of rating systems, including Star, point, Percentage, Circle, & Thumbs. All review systems support schema markup to help you get the star ratings in Google-rich snippets results. You can also use the Wp Schema plugin as an alternative to WP Review; they offer more features.
Key Features you need to know:
19 different Schema Support for Search Engines
Multiple Rating Systems (Star, Point, Percentage, Circle, Thumbs)
Great Styling in One-Click
16 Predefined Designs
User Comment Rating and Review
Compatible with Any WordPress Theme
Google Places Reviews Integration
Yelp Review Integration
Facebook Reviews Integrated
Comparison Table
10 Custom Widgets
WooCommerce Integration
Mobile-Friendly responsive design
Google Product Review Feed Support
Active Installation: 60,000+ active users
Overall Review: 4.2 out of 5 stars
14: Advanced Ads (Best Ad Management plugin)
If you are using Google Adsense on your website, It's necessary to use an Ad management plugin to easily display and manage ads on your site. WP Advanced Ads is one of the most powerful WordPress Ad Management plugins.
With this plugin, you can Create unlimited ad units, Automatically inject ads into specific areas, Schedule ads, Target ads to specific types of users, etc. WP Advanced Ads is a freemium WordPress plugin if you need it.
WP Advanced Ads works not only works with Google AdSense, but it works perfectly with multiple Ad networks. If you only use AdSense ads on your site, you can connect WP Advanced Ads with your AdSense account to show real-time stat, manage Auto Ads, etc.
Key Features you need to know:
Create and display unlimited ad units
ads.txt support
Geolocations support
Dedicated Gutenberg block for ads
Auto ads support Google AMP pages
Inject custom HTML, CSS, Javascript, or PHP code Ads support
Automatically inject ads on different locations
Display images and image banners, Ads support, and many more.
Active Installation: 100,000+ active users.
Overall Review: 4.9 out of 5 stars.
15: ThirstyAffiliates (Best Affiliate Link Manager Plugin)
Affiliate marketing is one of the best ways to make money online with your WordPress website. Thirsty Affiliates is one of the best WordPress affiliate link management plugins that come with highly equipped features to increase your affiliate sales.
Thirsty Affiliates allows users to add, manage, and easily insert affiliate links into their posts and pages. Their Link redirects feature protects your affiliate links from being scrapped and replaced by malware.
With the Thirsty Affiliates plugin, you can easily manage all your affiliate URLs, Link Cloaking, Auto-linker, clicking stat, etc. If you are an affiliate marketer, Thirsty Affiliates is the must-have WordPress plugin. You can also use Pretty Links as ThirtyAffilaites alternatives; both work similarly.
Key Features you need to know:
Inbuilt affiliate link shorter/link Cloaker
Click stats tracking & reports
affiliate link redirection options (301, 302 & 307)
Insert standard links, shortcodes
Customizable link URL prefixes
Advanced Affiliate link picker tool
No-Follow affiliate link option
Full backup compatibility
Amazon API Importing
Geolocations support
Automatic Link Health Checker
Active Installation: 30,000+ active users.
Overall Review: 4.5 out of 5 stars.
16: Social Warfare (Best Social Sharing Plugin)
Social shares can lead to more website traffic. That's why attractive social media sharing buttons are very essential for every website.
Social Warfare is a very lightweight, fast-loading, advanced social sharing plugin for WordPress websites and is also working as social proof. They offer very attractive sharing network buttons for Facebook, Twitter, Pinterest, Linkedin, and Mix with the free version.
And you can add a social sharing button on Various styles on 4 different placement locations. Along with social sharing, this plugin also works as Link shortening, analytics campaign tracking, Content protection, button click tracking, etc. You can also use NovaShare or Social Snap WordPress social sharing as an alternative.
Key Features you need to know:
Attractive social sharing buttons
Lightning-fast loading time
Social share analytics
5,000 potential style combinations
Sharable quotes support
Twitter Cards support
Responsive design
Click to tweet option
Simple shortcodes support
Content Protection integration
Active Installation: 1,000,000+ active users
Overall Review: 4.0 out of 5 stars.
17: WPS Limit Login
One of the most common WordPress hacking attacks by trying to force their way through your login page by trying various username and password combinations until something works. This is also known as a brute force attack.
By default, WordPress allows users to try to log different passwords continuously as often as they want with no restrictions on attempts.
With the WPS Limit Login plugin, you can stop brute-force attacks and add an extra layer of site security by limiting the number of logins. Limiting the failed login attempts will be locked out for a specified time if they entered the wrong password more than the specified time.
Key Features you need to know:
Limit the number of retry attempts when logging in (per each IP).
Informsremaining retries or lockout time on the login page.
XMLRPC gateway protection.
Handles server behind the reverse proxy.
It is possible to whitelist/blacklist IPs.
Wordfence compatibility.
Sucuri Website Firewall compatibility.
GDPR compliant.
Custom IP origins support.
Active Installation: 30,000+ active users
Overall Review: 5 out of 5 stars.
18: Code Snippets (Best Snippet Plugin)
Sometimes you have to add custom PHP code snippets into your WordPress theme's functions.php file or a site-specific plugin. The problem is that even the slightest PHP code mistake can break your website functionality, design, etc.
That's why you need to use the Code Snippets plugin to add custom code to extend the functionality of the WordPress website. Code Snippets plugin allows the users to add custom code to your website functions.php without any manual file editing.
This way, you can add and delete custom PHP code snippets to your website as if they were posts or pages without editing default theme files.
Active Installation: 400,000++ active users
Overall Review: 4.7 out of 5 stars.
19: Shortcodes Ultimate (Best Shortcode Plugin)
WordPress Shortcodes plugins are one of the easiest ways to add custom content style to your site. With the Shortcodes Ultimate plugin, you can add your custom content added to posts and pages without wasting time writing lots of lines of code to get something done.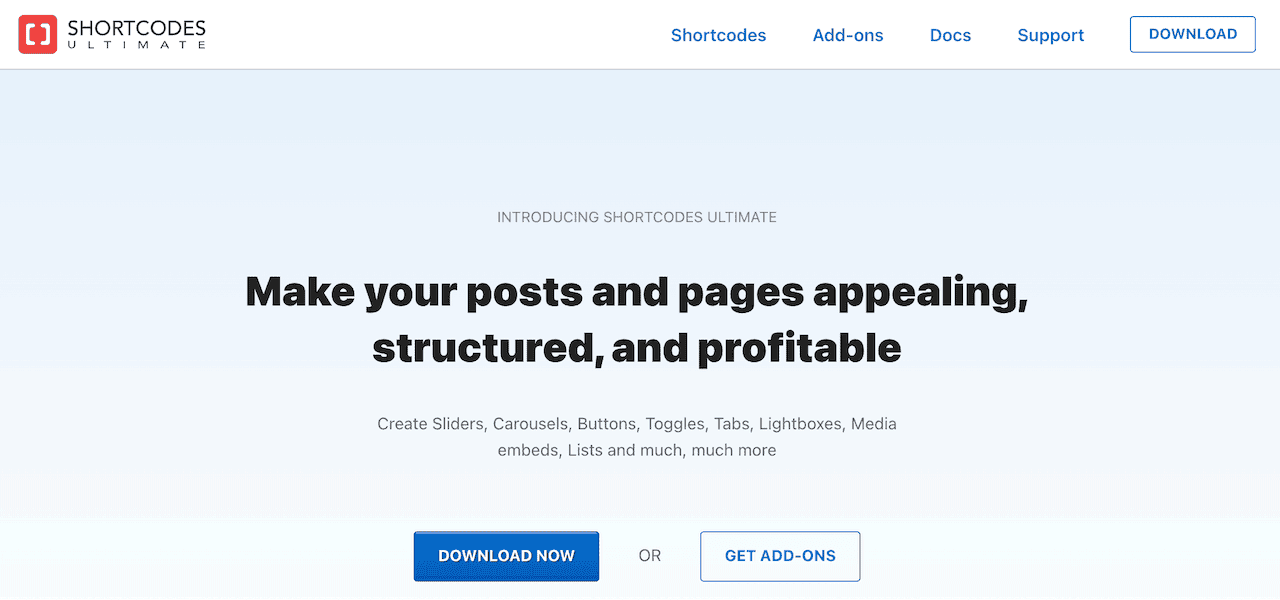 If you want to add specific styles, buttons, tables, QR codes, quotes, maps, sliders, notes, Youtube videos, lightbox, or something like that, then the Shortcodes Ultimate plugin does all this stuff for free in a matter of seconds.
They also offer some Premium add-ons like extra shortcodes, additional skins for plugin shortcodes, custom shortcodes, etc for more functionality.
Key Features you need to know:
50+ professional-looking shortcodes.
Fully responsive design.
Endless Possibilities.
1-click shortcode insertion with live preview
Custom CSS editor.
Custom widget.
Latest Gutenberg-friendly editor.
Translation ready.
Developer-friendly.
Higher Productivity
Active Installation: 800,000+ active users
Overall Review: 4.9 out of 5 stars.
20: TablePress (Best Table Management Plugin)
WordPress's latest Gutenberg editor comes with an in-built Table creation tool. But if you are unsatisfied with the default table design, then TablePress is one of the best options to create a responsive, good-looking table without using any code.
Key Features you need to know:
Manage and edit tables easily
Responsive design
Embed tables in your posts and pages using a Shortcode
Advanced editor for styling
Copy/duplicate and delete tables
Import & Export tables in Excel (.xls/.xlsx), CSV, HTML, or JSON format
Advance table features like sorting, pagination and filtering/search option are available
Custom CSS option
Active Installation: 800,000+ active users
Overall Review: 5 out of 5 stars.
21: AMP for WP (Best AMP Plugin for WordPress)
Fast loading websites increase the overall user experience and can improve your traffic & revenue. Recent studies show that over 50% of Google searches are conducted via mobile devices.
If you want your website to load super fast on mobile devices, you should use Google AMP technology. AMP allows WordPress websites to build lightweight web pages by creating fast, smooth-scrolling, and stripped-down versions of your web pages that look great on mobile devices.
Google studies show that after using AMP 44% increase in monthly unique visitors and a 73% increase in monthly unique visitors. AMP for WP plugin automatically adds the AMP version to your website.
AMP for WP plugin offers amazing advanced features to your AMP pages, including beautiful design, Google Analytics, Tag Manager, and AdSense support. You can also make the AMP & Non-AMP versions of your WordPress website with just one click.
Key Features you need to know:
Mobile Redirection
Social Media Integrations
Drag & Drop Page builder support
Disqus Comments Support
Google Tag Manager integration
Gutenberg Editor Support
All Google Fonts Support
GDPR Compliance
4 Pre-built AMP theme Layouts
OneSignal Push Notifications integration
Advanced WooCommerce Support
Contact Form 7 Support
Structured Data Options
Custom AMP Editor
Google Adsense (AMP-AD) Support, and many more.
Active Installation: 200,000+ active users
Overall Review: 4.4 out of 5 stars.
Blog Designer
Blog Designer is the ultimate plugin to customize the blog page; posts attractively that quickly attract the blog readers. Blog Designer is a tool that allows designing WordPress blogs with blog templates; even a newbie or beginner can easily design the blogs. It is a one-step-ahead blog layout plugin.
The plugin contains many customization options that a blogger can easily modify things and give a WOW factor to the blogging website on your own. It also offers a Pro version with advanced blog customization features.
Key Features you need to know:
Multiple Post Category Selection
Show/Hide Post category, tags, author, comment counts, etc.
Maintain post content length with summary text
Custom CSS support
Easily manage the number of posts per page
Alternative Background color selection for posts
Maintain post content length with summary text
Manage your 'Read More' text
Translation Ready
Square/Circle social share buttons
Active Installation: 20000+
Overall Review: 4 out of 5 stars.
Conclusion on Best WordPress Plugins
I hope you liked our best WordPress Plugins for the Bloggers list. Now it's your turn which WordPress Plugins you use on your website; let me know. If you use any other plugins and blogging tools that recommend boosting your WordPress website performance, feel free to comment.
You may also like:
Also, if you like our efforts and love, then follow me on Facebook & Twitter. Don't forget to bookmark our website for future updates about WordPress guides.
Thank you. Have a nice day.